Barbera d'Asti: le nostre interpretazioni
Barbera d'Asti Blina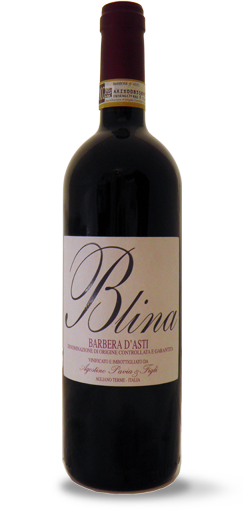 Grape variety: Barbera 100%
Training system: low Guyot
Crop density: 5.000 stocks per hectare
Yield: 8.000 kg per hectare
Harvest: end of September, with manual picking
Vinification: 13-15 days maceration in the marc with pumping over 3 times a day at 26° C. Refine-ment in 50/100- hectolitre stainless steel vats with frequent pumping over. Alcoholic fermentation at 28-30° C and malolactic fermentation within December. Refinement in stainless steel vats with re-current devatting until next September, when it is bottled.
Ageing in bottles for about 5 months.
Ageing potential: up to 5-8 years
TASTING NOTES
Colour: ruby red with marked purple reflections.
Bouquet: intense, full and vinous with evident scents of plum, raspberry and juniper.
Flavour: well-strctured and smooth, with an elegant silky texture, that makes the wine pleasant and crisp. Well-balanced acidity and tannins are followed by an intense aftertaste with sensations of spices and red fruit.